Red Coach Inn, Niagara Falls
Welcome to the very best location in Niagara Falls, New York. The Red Coach Inn overlooks Niagara's majestic Upper Rapids, just 500 yards from the brink of Niagara Falls - so close you can hear the roar!
Modeled after the Bell Inn in Finedon, England, The Red Coach Inn has been welcoming guests to Niagara Falls since 1923. This Niagara Falls, NY hotel is the city's most distinctive historic structure, with its English Tudor exterior and warm English country ambiance.
Choose from our romance, dinner, or tour packages for a truly complete Niagara Falls experience. We also offer banquet facilities for business conferences, family reunions, showers, wedding receptions, and rehearsal dinners. Our accommodations offer a lodging experience far superior to a conventional hotel stay.

Picture-perfect Banquets
Every banquet is a celebration here at the Red Coach Inn! Planning a wedding ceremony or reception? Having a baby or bridal shower? Setting up a company meeting or birthday party? Say your "I Dos" and sing your "Happy Birthdays" in one of our banquet rooms, you'll surely have an unforgettable celebration!
Choose from one of our elegant banquet rooms and different packages for your event. We have a sincerely accommodating staff who are ready to help you host the celebration you've envisioned and of course, the picture-perfect setting for your memorable day. We have the best location right here, overlooking the upper rapids of the Niagara River.
Click HERE for more information or call us at 716-282-1459 and ask for our banquet coordinator to start planning your picture-perfect banquet!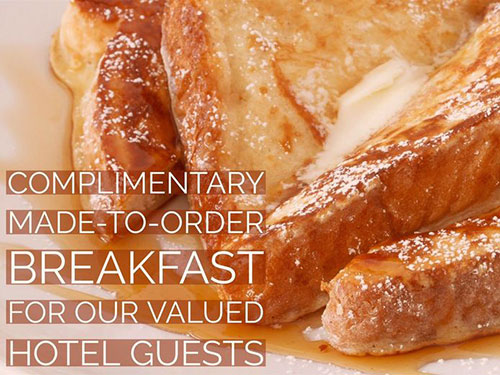 Complimentary Made-To-Order Breakfast
We offer the best way to start your day in Niagara Falls! And no, it does not include falling in line for a typical breakfast buffet, but a scrumptious dish made-to-order by our restaurant chefs. Included in your room reservation is a complimentary sit-down breakfast at our award-winning restaurant. We have everything from the Traditional Breakfast to Crab Omelette. Want to try a breakfast staple but with a satisfying twist? Ask for our famous Creme Brulee French Toast! It's definitely not your ordinary hotel breakfast that includes pre-cooked eggs and hashbrowns.
Have a relaxing time in your room and wake up to a cooked-to-order meal that will fuel you for a day full of adventure!
Click HERE to see the full breakfast menu or contact the front desk for more information.