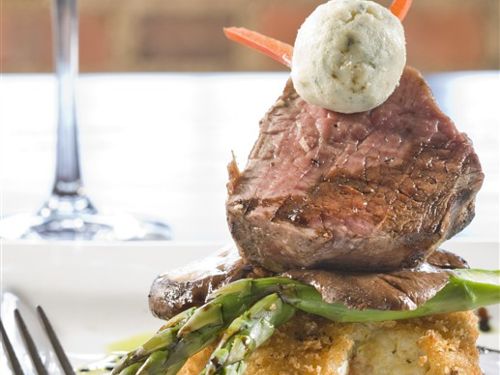 Entrees Selections
All Entrees includes Include: Freshly Brewed Coffee, Decaf as well as Salad, Bread & Butter, and Vegetable Medley.
+2.00 upcharge for Caesar Salad.
*Prime Rib - $46
12oz Black Angus Prime Rib with Cabernet Au Jus
*New York Strip - $44
12oz Aged New York Strip Steak with Mushroom Black Pepper Demi Sauce
*Filet Mignon - $49
8oz Grilled Center Cut Filet Mignon with Shallot Sherry Cream Sauce
*Surf & Turf - $49
4oz Grilled Filet Mignon and 4oz Broiled Lobster Tail with Hollandaise Sauce, Drawn Butter
Seafood Platter - $51
4oz Broiled Brazilian Lobster Tail with Drawn Butter, Asian Tiger Shrimp in Scampi Sauce and Pan Seared Georges Bank Sea Scallops in Garlic Cream Sauce
Lobster Tail - $52
Twin 4oz Broiled Cold Water Canadian Lobster Tails with Lemon Butter
-Add a Lobster Tail to Any Entrée- $25-
*All Beef options are prepared to medium
Add Second Entrée for $1.00 per Person Surcharge
Add Third Entrée for a $2.00 per Person Surcharge
Side Selections
Herb Roasted Potatoes
Cheddar Mashed Potatoes
Garlic Smashed Potatoes
Sour Cream Chive Mashed Potatoes
Counts for Each Entrée are Due Along with Your Guarantee One Week Prior to Your Event.
All banquet charges are subject to 15% service charge, 5% Event Coordinator Fee and 8.00% sales tax.